I love winning. lol. I seem to be doing a lot of that lately. In life as well as actually winning tangible things! hahah. I got an email yesterday from the people at
Shrinking Jeans
saying that I won their giveaway for Body glide on the week one
challenge post
from Shrinkvivor!!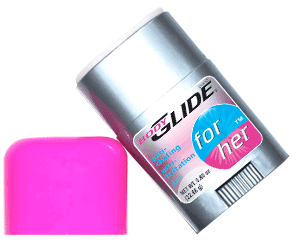 For Women
1 Bodyglide For Her .8oz
1 Liquified Powder Tube 1.6oz
1 WarmFx .45oz
1 Sun & Sport .45oz
1 Bodyglide Cap
So score for something I've never tried before, yet already have a need for! I was out running today doing day 2 of week 4 of my couch to 5k training plan and my thighs kept slapping together so hard and I could swear they were ready to start chaffing so bad! I wish I already had the bodyglide! lol.
Speaking of week 4!! I did day 1 yesterday and Jett was awake so I had to take him with me! The neighborhood I run around here has all sorts of hills and things, too. I pushed his 33lbs plus the weight of the stroller while doing my first 5 minutes of straight jogging. Talk about tough! I totally felt awesome for having gotten through it though and realized I was much more capable than I thought I was. Today Jett was napping when I usually go for my walks or runs so I decided to go ahead and get day 2 out of the way while I had the chance. I got to run alone and my pace was sooo much faster! At the end I even ran an extra 30 seconds before looking down at the stopwatch to see that my 5 minutes had already passed!
I've been doing a lot of up and down on the scale the past few days with Aunt Flow in town but she's gone now and I worked out pretty hard today so I'm hoping to see a good loss tomorrow and have something nice to report in with for my first week of Shrinkvivor! I did Jillian Michael's Burn Fat Boost Metabolism for about 50 minutes this afternoon, did my couch to 5k training after dinner and then followed that up with Level 3 of the 30 day shred. I was really hurting through that one too tonight so I modified a lot more than usual. lol. I didn't wanna over exert myself and end up being super lazy tomorrow because of it.